Anthony Kennedy and Our Delayed Constitutional Crisis
nakedcapitalism.com/2018/07/anthony-kennedy-delayed-constitutional-crisis.html
By Yves SmithJuly 3, 2018
By Gaius Publius, a professional writer living on the West Coast of the United States and frequent contributor to DownWithTyranny, digby, Truthout, and Naked Capitalism. Follow him on Twitter @Gaius_Publius, Tumblr and Facebook. GP article archive  here. Originally published at DownWithTyranny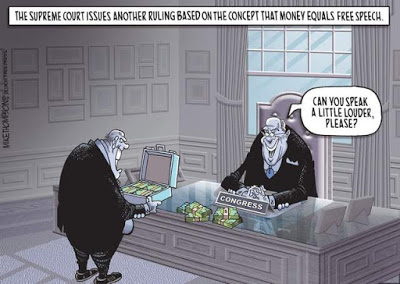 Image credit: Mike Thompson / Detroit Free Press
Like "swing vote" Justice Sandra Day O'Connor before him, "swing vote" justice Anthony Kennedy has been one of the worst Supreme Court jurists of the modern era.
With swing-vote status comes great responsibility, and in the most consequential — and wrongly decided — cases of this generation, O'Connor and Kennedy were the Court's key enablers. They
Cast the deciding vote that made each decision possible
Kept alive the illusion of the Court's non-partisan legitimacy
Each of these points is critical in evaluating the modern Supreme Court. For two generations, it has made decisions that changed the constitution for the worse. (Small "c" on constitution to indicate the original written document, plus its amendments, plus the sum of all unwritten agreements and court decisions that determine how those documents are to be interpreted).
These horrible decisions are easy to list. They expanded the earlier decision on corporate personhood by
Continue reading.