Hero pitbull uses doggy door to save neighbors from violent home intruders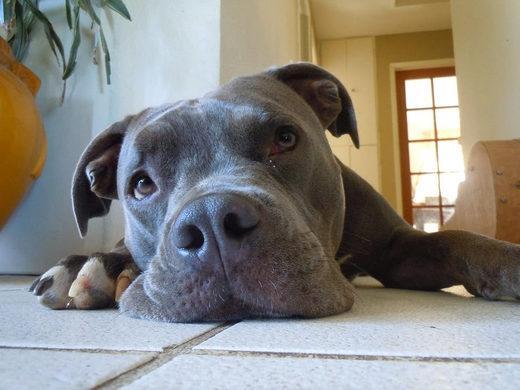 Brisco, a 6-year-old Pitbull and therapy dog is being hailed as a hero after he saved a neighborhood family from 3 violent home intruders late Tuesday evening.
Brisco's owner, 39-year-old Greg Bannerman, lives in Miami, Florida, and adopted the young Pitbull 4-years-ago after he retired from the United States Marine Corps and his doctor recommended he get a therapy dog to help assist with mild-PSTD.
Bannerman along with his fiancé Megan Howler live in a modest home within a quiet, middle-class, neighborhood primarily occupied by families with small children located on the outskirts of Miami-Dade County.
According to Bannerman, he had spent Tuesday evening where he spends most evenings, on the couch, binge watching the show 'Friends' with his fiancé Megan. The 39-year-old retired serviceman told reporters that they had been enjoying a relaxing evening and that nothing seemed out of the ordinary.
"We were just laying around watching Netflix and had no idea that something terrible was taking place next-door" – Bannerman told local reporters.
Bannerman and his fiancé may not have known what horrors were taking place just next door -but the couple's dog, Brisco, did. According to Bannerman, the 6-year-old therapy dog was laying on the floor at the foot of the couch, when suddenly, his ears perked up and he bolted out of the living room and using a doggy door, ran out of the house.
Continue reading at link above.