Kaepernickan moment: High school football players across the country take to knee for National Anthem
sott.net
/article/328034-Kaepernickan-moment-High-school-football-players-across-the-country-take-to-knee-for-National-Anthem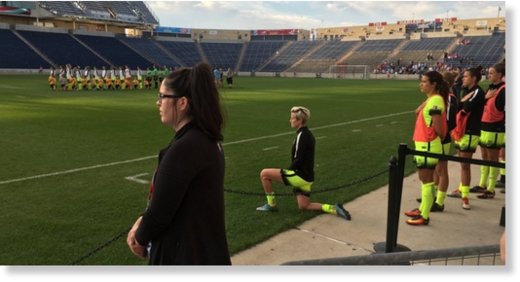 High school football players across the US followed San Francisco 49ers quarterback Colin Kaepernick's lead and declined to stand for the national anthem Friday night and Saturday afternoon.
It appears that Kaepernick has started a movement with his silent protest during the national anthem during a pre-season game on August 26. Kaepernick said his "taking a knee" was to protest racial oppression and police brutality in the United States.
Meanwhile, Alabama's Birmingham News reports:
The announcer of the Friday night football game at McKenzie High School in Alabama's Butler County had something to say to those who may choose not to stand for the national anthem.

"If you don't want to stand for the national anthem, you can line up over there by the fence and let our military personnel take a few shots at you since they're taking shots for you," the announcer said at the game versus Houston County High School, according to Facebook poster Denise Crowley-Whitfield.

Crowley-Whitfield said the crowd went "crazy cheering" following the speech.

The announcer was identified as Pastor Allen Joyner, of Sweet Home Baptist Church in McKenzie, according to Joyner's relatives and friends, who also posted to Facebook and praised the statement.

Crowley-Whitfield's post was shared more than 4,700 times and received more than 50 comments, all positive, before she deleted her Facebook account on Saturday afternoon.